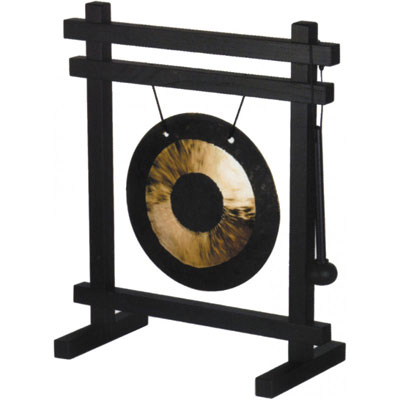 The gong is one of the oldest-known instruments in the history of humanity. In the past, archeologists have uncovered Asian gongs over five-thousand years old, which have provided researchers with a variety of information supporting many of the historically different functions of the round, metal instrument.
The most widely-accepted theory among gong-historians regarding the instrument's initial use is with regards to its ancient Greek roots. Back then, the ancient Latin proverb "laborare pugnare parati sumus," or in English, "to work, (or) to fight; we are ready," largely guided the gong's primary function: to wake peasants.
Before the invention of clocks, the majority of peasant workers relied on sun dials to keep track of the hours in a day, which — as one can imagine — resulted in many workers oversleeping and arriving late to work.
For thousands of years, the 'alarm-clock' style of gong (which is also often referred to as the 'nipple gong') was used to wake workers all over the world. The gong became very popular in Asia, where — according to historians — the largest number of people suffered from oversleeping.
Over time, the gong was slowly replaced by other loud instruments like church bells and carillons, which were more effective at reaching a larger number of people. After a period of dormancy, the gong was revived through music in the early 1900s.
Legendary jazz pianist Art Tatum is often credited with bringing the gong back to prominence. Music historians cite his performance of "Somewhere Over The Rainbow," which he adapted for a range of different sized gongs, as being the first use of the gong as the primary musical instrument in a pop context.
Tatum, who was blind, premiered the song at New York's Onyx club in 1934 to remarkably positive reception.
Listen to a remastered version of the original recording of Tatum's performance below.
As time went on, Tatum's piano version of "Somewhere Over The Rainbow" superceded the popularity of the gong version, though the gong performance will always be a relic of music history.